AIR/W MODELS A FULL RANGE OF AIR TRANSFER PROBLEMS
THERMAL RESPONSE OF GRAVEL EMBANKMENTS
Forced convective heat transfer through coarse grain embankments may occur as a result of air movement. In northern regions, convection can cause significant temperature reduction within an embankment during winter months. Conversely, convection through the embankment during summer months may affect permafrost within the underlying formation. When coupled with TEMP/W, AIR/W may be used to investigate these effects.
DESIGN OF WASTE COVER SYSTEMS
Cover systems for mine waste, landfills, and mine reclamation often involve complex hydraulic behaviour that effect long-term performance of these structures. AIR/W may be coupled with SEEP/W to understand the movement of air and water through saturated-unsaturated cover systems. A cover analysis may also include gas migration when AIR/W is coupled with CTRAN/W.
GAS PARTICLE MOVEMENT IN POROUS MEDIA
The single phase AIR/W material model allows for the simulation of pressure driven air flow. In a single phase simulation, the particle tracking option may be selected to evaluate gas particle movement through the porous medium.
DENSITY EFFECTS ON AIR FLOW
Air movement through porous media may be influenced by spatial variations in temperature, causing density-dependent air flow, or free convection. Together, AIR/W and TEMP/W can simulate air flow generated by density differences throughout the domain.
VIEWING THE ANALYSIS RESULTS
Once you have solved your seepage problem, AIR/W offers many tools for viewing results. Generate contours or x-y plots of any computed parameter, such as head, pressures, matric suction, gradients, velocities, and conductivities. Air or water velocity vectors show flow direction and rate. Transient conditions can be shown as a changing water table over time. Interactively query computed values by clicking on any node, Gauss region, or flux section. Then prepare the results for your report by adding labels, axes, and pictures, or export the results into other applications such as Microsoft® Excel® for further analysis.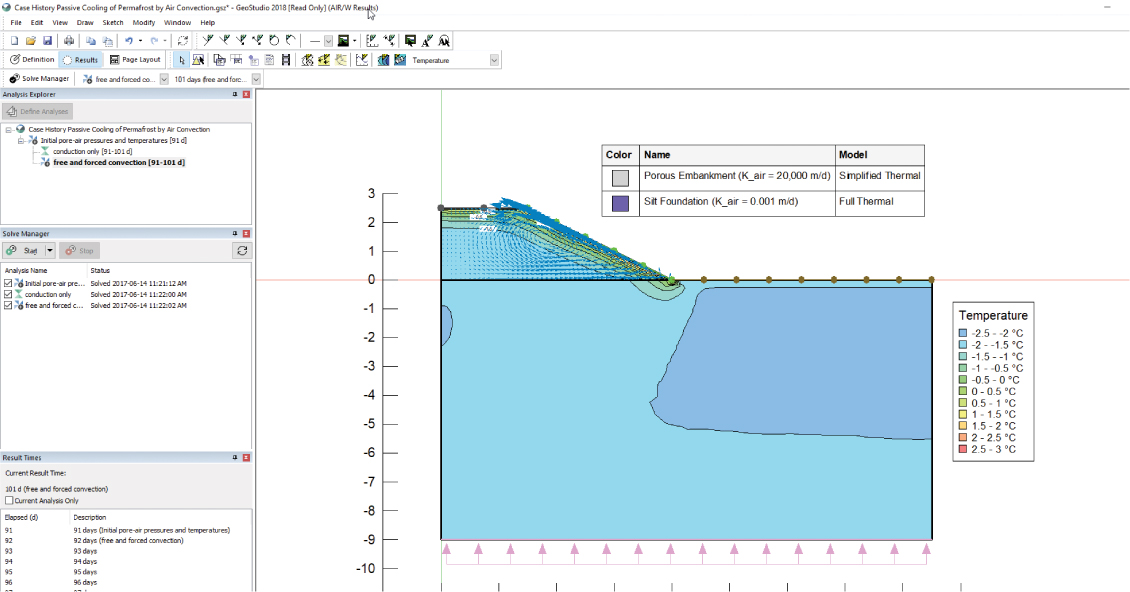 AIR/W can model almost any groundwater problem, including:
Soil vapor extraction systems
Air pressure in tunnels for support and water inflow control
Air pressure response ahead of water infiltration fronts
Thermal / density dependent air flow that contributes to convective heat transfer in freezing / thawing soils (when coupled with TEMP/W)
The true matric suction (Ua-Uw) phenomenon
plus many more!
AIR/W offers simple but powerful analytical capabilities when used in combination with other GeoStudio products.
The hydraulic conductivity of the soil is a function of the negative pore-water pressure in the unsaturated regions. The rate of change in water content is dependent on the pore-water pressure during transient processes. Hydraulic conductivity can be defined as anisotropic in two orthogonal directions.
The nonlinear nature of the finite element equations is handled using an efficient radial search iterative scheme. Graphing tools are available during run-time to help you judge if convergence has been achieved. This has proved to be extremely useful in solving highly nonlinear flow systems.
AIR/W computes the total flux across single or multiple lines drawn through the mesh.
Analysis types include steady-state confined and unconfined flow, transient flow, 2-D flow in a cross-section or in plan view, and 3D axisymmetric flow.
Boundary condition types include total head, pressure head, or flux specified as a constant or a function of time; pressure head; transient flux as a function of computed head; review and adjustment of seepage face conditions.
Volumetric water content and conductivity functions can be estimated from basic parameters and grain-size functions.
Adaptive time stepping to ensure the use of optimal time steps in transient analyses with sudden changes in boundary conditions.
Flow path deliniation.
And many more!
INTEGRATION WITH OTHER APPLICATIONS
AIR/W and SEEP/W integrate with TEMP/W so that you can model convective heat transfer due to moving air and water. Conversely, you can have the thermal solution affect the air densities and pressures in AIR/W so that the air will flow based on thermal processes alone. AIR/W passes air content and mass flow vectors to TEMP/W and it returns the new temperature profile to AIR/W. All of this happens automatically based on your analysis type definition.
ENGINEERING METHODOLOGY BOOK
The included AIR/W engineering methodology book discusses the whys and hows of modeling, as well as the theory and formulations behind the AIR/W product. Air Flow Modeling with AIR/W is a full-length book about proper modeling techniques: how to think before, during and after setting up and solving a model. The book includes chapters devoted to:
Material Models and Properties
Boundary Conditions
Analysis Types
Functions in GeoStudio
Numerical Issues
Visualization of Results
Modeling Tips and Tricks
Illustrative Examples
Theory
MINIMUM SYSTEM REQUIREMENTS
Microsoft® Windows® 10, Windows® 8.1, Windows® 8, Windows® 7 SP1
Intel® Pentium® 4 or better, or AMD Opteron™ or Athlon™ 64 or better. (GeoStudio is optimized for multi-core Intel processors)
1 GB hard disk space
1024×768 screen resolution.
For 3D features, your graphics card must support Direct3D® Feature Level 10_1 or greater.
This includes graphics cards such as (and newer than):

Nvidia® GT 300
ATI® Radeon® HD 4000 Series
Intel® HD Graphics 3000/2000

Microsoft® .NET 4.0 will be installed automatically if it is missing.
SUPPORTED VIRTUAL MACHINES
The latest release of GeoStudio can be run on these VM platforms:
VMware® ESXi™ 5.5 and 6.0
VMware® Workstation™ 11 and 12
Microsoft® Hyper-V® on Windows Server® 2016, 2012 R2, 2012, and Windows® 10
Citrix® XenServer® 6.2, 6.5 and 7.0