TEMP/W MODELS A FULL RANGE OF HEAT TRANSFER PROBLEMS
DESIGN OF GROUND FREEZING SYSTEMS
Controlling groundwater flow and stabilizing ground is critical in many tunnelling, waste management, and civil engineering projects. The convective surface and thermosyphon boundary conditions in TEMP/W can be used to analyze and design ground freezing systems in porous media. Combined with SEEP/W and AIR/W, forced-convection heat transfer can be analyzed in even the most challenging physical systems.
EFFECT OF CLIMATE CHANGE ON INFRASTRUCTURE
TEMP/W is used worldwide to analyze the effect of climate change on infrastructure located in northern regions. The sophisticated surface energy balance boundary condition models the exchange of thermal energy at the ground surface for a breadth of climatic and ground cover conditions. The rigorous phase change formulation provides an accurate solution to problems involving freeze-thaw of saturated-unsaturated porous media.
DESIGN OF WASTE COVER SYSTEMS
Cover systems for mine waste, landfills, and mine reclamation in northern regions often involve complex thermal and hydraulic behaviour that effect long-term performance of these structures. TEMP/W provides the ideal tool for understanding the thermal response of saturated-unsaturated cover systems and may be combined with SEEP/W and CTRAN/W to analyze moisture and solute movement in seasonally frozen systems.
In seasonally frozen environments, snowmelt is typically the dominant water input to a watershed. Infiltration into frozen ground has a significant impact on run-off and the behaviour of engineered systems. Thus, understanding snowmelt infiltration is critical to managing water movement in agricultural and engineered systems. TEMP/W can be used to simulate snowmelt and the corresponding infiltration into the ground.
VIEWING THE ANALYSIS RESULTS
Once you have solved your geothermal analysis, TEMP/W offers many tools for viewing results. Generate contours or x-y plots of any computed parameter, such as temperature, flux, gradient, latent heat, or net radiation. Gradient vectors show the energy flow direction and rate. Transient conditions can be shown by plotting the changing frost front position over time. View energy flow paths and flux quantities. Interactively query computed values by clicking on any node, element Gauss region, or flux section. Then prepare the results for your report by adding labels, axes, and pictures, or export the results into other applications such as Microsoft® Excel® for further analysis.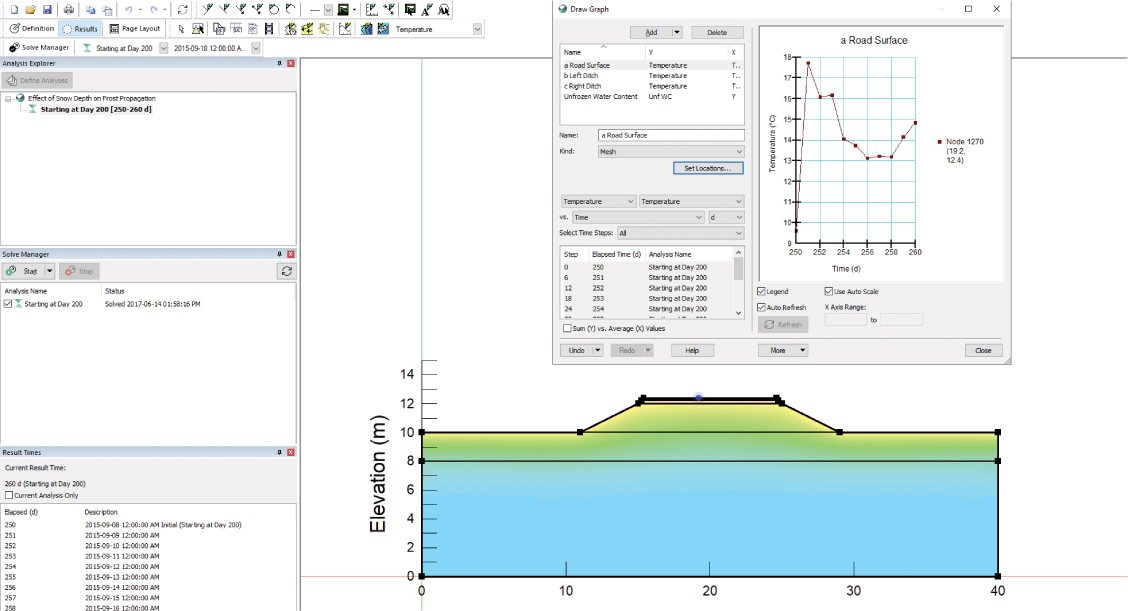 TEMP/W can model almost any geothermal problem, including:
Degradation of permafrost beneath warm buildings or around a warm, buried pipeline
Development of a frost bulb around a chilled pipeline
Ground freezing for soil stabilization, including use of freezing pipes around mine shafts or thermosyphons on top of earth dams
Freeze-thaw action beneath roadways and airport runways
Frost depth penetration beneath chilled structures such as a recreational ice surface or a highway during winter
Effectiveness of various insulation alternatives for reducing freezing and/or thawing
plus many more!
TEMP/W offers simple but powerful analytical capabilities when used in combination with other GeoStudio products.
TEMP/W is formulated to analyze ground temperature changes, including the effects of latent heat due to the phase change from ice to water and from water to ice. The analysis of latent heat effects makes TEMP/W a powerful software product for analyzing various ground conditions.
TEMP/W uses Gaussian numerical integration to formulate the element characteristic matrices. The integration involves sampling the element characteristics at selected points and summing the sampled values. As a result, it is possible to use a different material property at each sampled point, allowing the material properties to vary throughout the element.
A soil's thermal conductivity varies with temperature. TEMP/W accommodates this with a general conductivity function, making it possible to consider a smooth transition in conductivity as the temperature changes from thawed to frozen conditions and vice versa.
Analysis types include steady-state or transient energy flow, 2-D energy flow in a cross-section or in plan view, and 3D axisymmetric energy flow.
Boundary condition types include temperature or flux (fixed or a function of time), thermosyphons, convective surfaces, or imported climate data.
Latent heat modeled using an unfrozen water content function.
Frozen and unfrozen volumetric heat capacity and the volumetric water content specified individually for each soil type.
Adaptive time stepping automatically inserts additional time steps when nodal temperatures change more than the specified criteria.
Initial conditions obtained from a previous analysis or specified as constant nodal temperatures.
plus many more!
INTEGRATION WITH OTHER APPLICATIONS
Measured climate data can be pasted from a spreadsheet into TEMP/W and used to determine the actual ground surface temperatures with or without snowpack. TEMP/W will use precipitation data to accumulate snow depths over the winter. An energy balance approach is used to calculate ground temperatures beneath snow and to melt snow during the spring. Link it with SEEP/W or AIR/W for convective heat transfer analysis.
ENGINEERING METHODOLOGY BOOK
The included TEMP/W engineering methodology book discusses the whys and hows of modeling, as well as the theory and formulations behind the TEMP/W product.Thermal Modeling with TEMP/W is a full-length book about proper modeling techniques: how to think before, during and after setting up and solving a model. The book includes chapters devoted to:
Numerical Modeling: What, Why and How
Geometry and Meshing
Material Models and Properties
Bounday Conditions
Analysis Types
Functions in GeoStudio
Numerical Issues
Visualization of Results
Modeling Tips and Tricks
Illustrative Examples
Theory
MINIMUM SYSTEM REQUIREMENTS
Microsoft® Windows® 10, Windows® 8.1, Windows® 8, Windows® 7 SP1
Intel® Pentium® 4 or better, or AMD Opteron™ or Athlon™ 64 or better. (GeoStudio is optimized for multi-core Intel processors)
1 GB hard disk space
1024×768 screen resolution.
For 3D features, your graphics card must support Direct3D® Feature Level 10_1 or greater.
This includes graphics cards such as (and newer than):

Nvidia® GT 300
ATI® Radeon® HD 4000 Series
Intel® HD Graphics 3000/2000

Microsoft® .NET 4.0 will be installed automatically if it is missing.
SUPPORTED VIRTUAL MACHINES
The latest release of GeoStudio can be run on these VM platforms:
VMware® ESXi™ 5.5 and 6.0
VMware® Workstation™ 11 and 12
Microsoft® Hyper-V® on Windows Server® 2016, 2012 R2, 2012, and Windows® 10
Citrix® XenServer® 6.2, 6.5 and 7.0